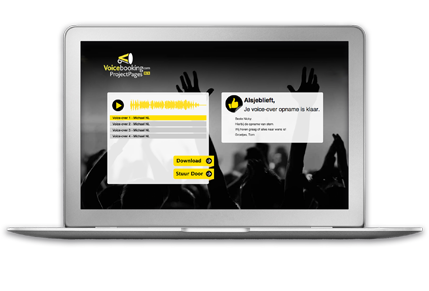 Direct voice overs from the comfort of your own desk
Found the ideal voice over and want to direct?
Easy, from your own chair, with Sessionlink Pro.
Being virtually present during the recording
Via a online app
Sessionlink and Skype dependent on voice
Studiohire unnecessary
With Voicebooking.com you can organise your voice overs in different ways. The easiest is to place a briefing in our project system that the voice actor will use to get started. For some jobs it's more important to stay personally in charge of the direction: Creative Control.
With Creative Control you log in with your voice actor via a conference call and can listen along during the recording. Or, by logging in with a uniquely generated link, you get a direct feed from the mic.
Creative Control is already available with a large proportion of our Dutch and English voice over actors. Look at their profile under 'call in and directing possibilities' and Creative Control will be indicated. Simple!
More info? Email us or call to +31 (0) 77 47 323.