Before selecting a voice over actor, you can sometimes feel the need to chat with one or two to gauge your possibilities. Fortunately, we offer this feature!
It was only possible to chat with our voice overs once your project was created and approved. However, this meant you had to already select the voice over, with little room for choice. Now, you can chat with as many voice overs as you like to get all your questions answered before making your final decision!
We realized that sometimes you have questions you would like to discuss before choosing a voice. For example, about their recording availability or a specific request that will be best answered by them. That's why we have implemented a feature where you can chat with one, or multiple voice overs, before making your final decision! This new feature is live now for all of our pre-selected English, German, French, Flemish and Dutch voice actors. Just try it out yourself, by selecting the voice of your choice.
This is how it works:
1. Choose your voice over
Go to the 'our voice actors' page on the website, and select your voice talent.
2. Click on 'Ask a question'
Sign in or create an account to chat directly with the voice over. You can now ask all your questions. Happy chatting!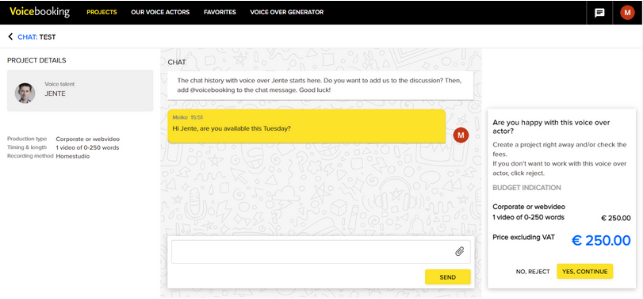 All questions answered?
Then book your voice over directly in the chat!