Working online,
also for all your audio and video content
Benefit from 10 years of experience with remote audio production.
Discover how to work remotely with Voicebooking.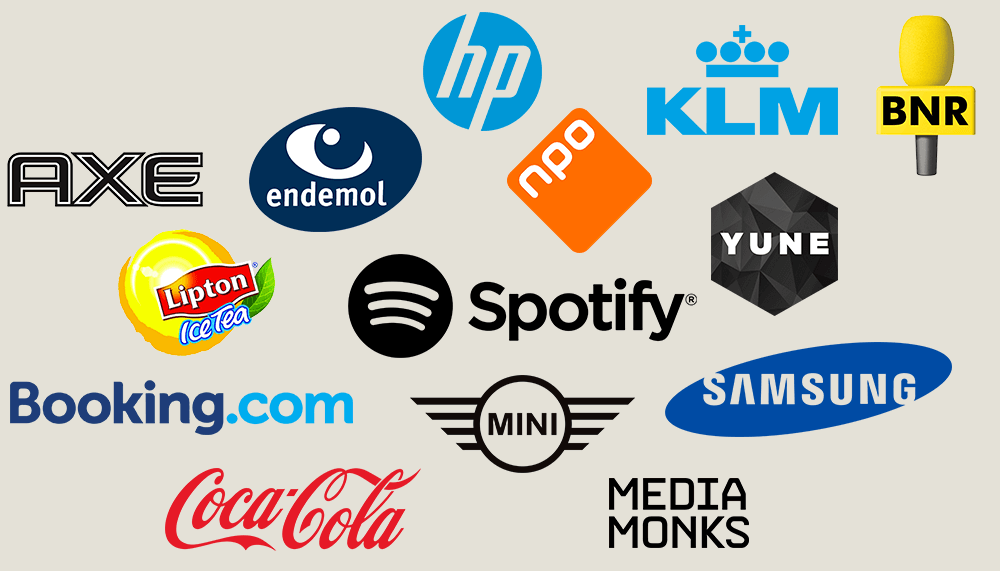 These clients already arrange their voice overs remotely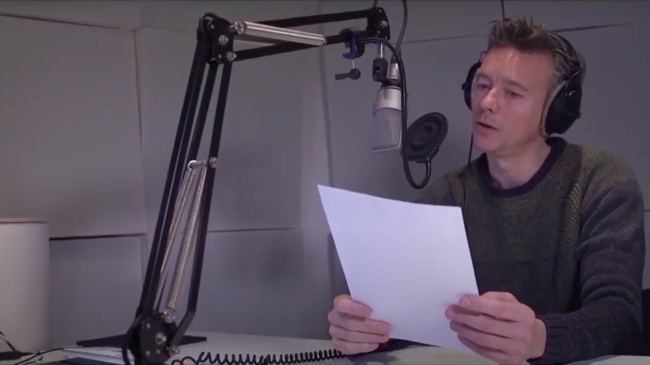 Our voice overs operate from their
home studios. You direct from
wherever you are at the time of recording.
Easy, right?
In 2020, the world learned about the benefits of working remotely. Meetings with colleagues and clients from the comfort of your home. Voice overs recordings and audio productions work exactly like that. At Voicebooking we have been doing it since 2010. Are you on board yet?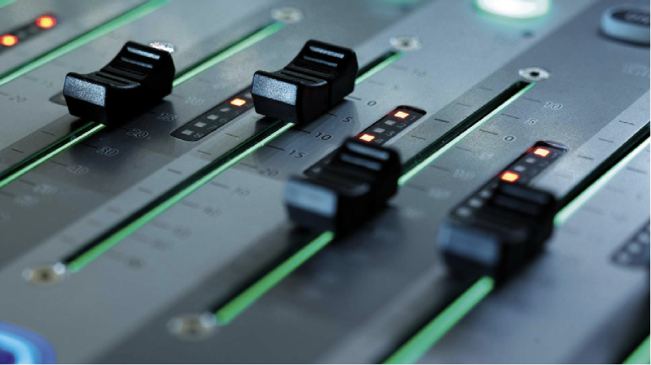 All audio

Working remotely works for all forms of audio production. From voice overs for webvideos, commercials and explainers, to special effects and post production. E-learnings, podcasts and audiobooks are produced in the same way.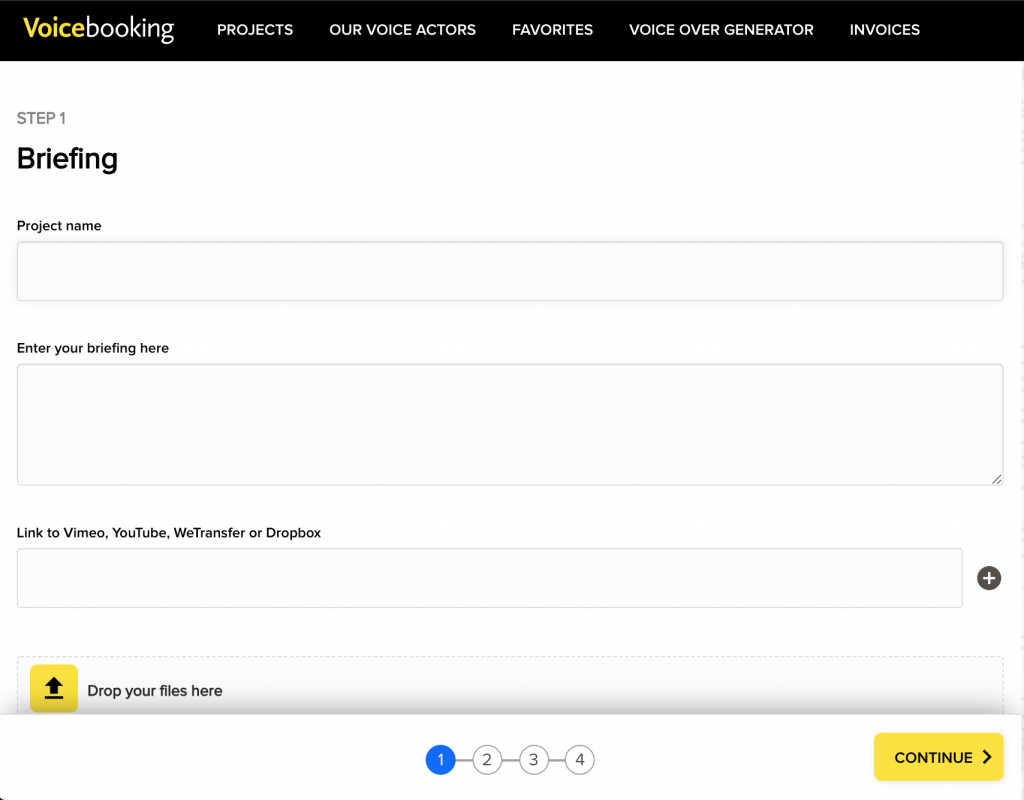 Fast delivery
Voicebooking is extremely fast in delivering your complete audio productions. The combination of remote work and the efficiency of our platform will find you the quality you are looking for.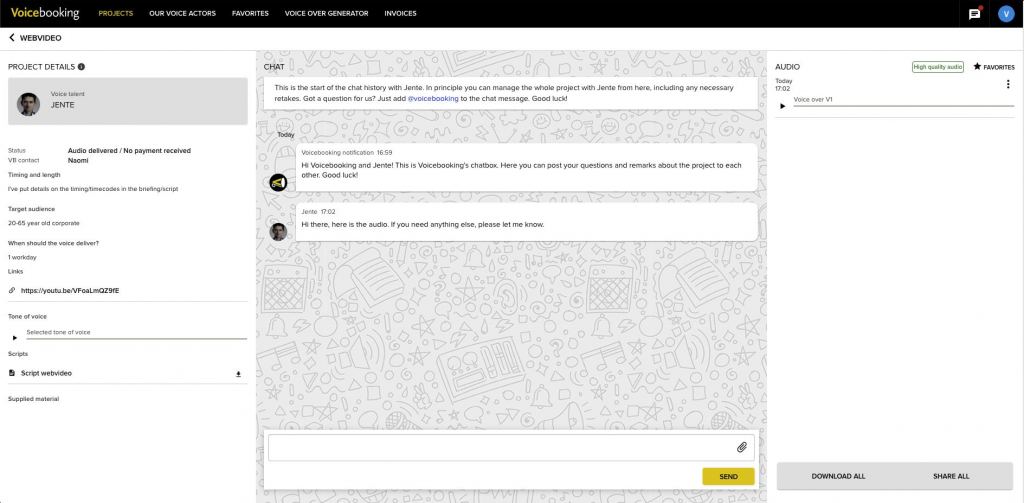 Simple process
Our producers make sure the job gets done to keep your calendar from filling up. We find you voice overs, translators, video editors and audio designers and ensure a transparent process.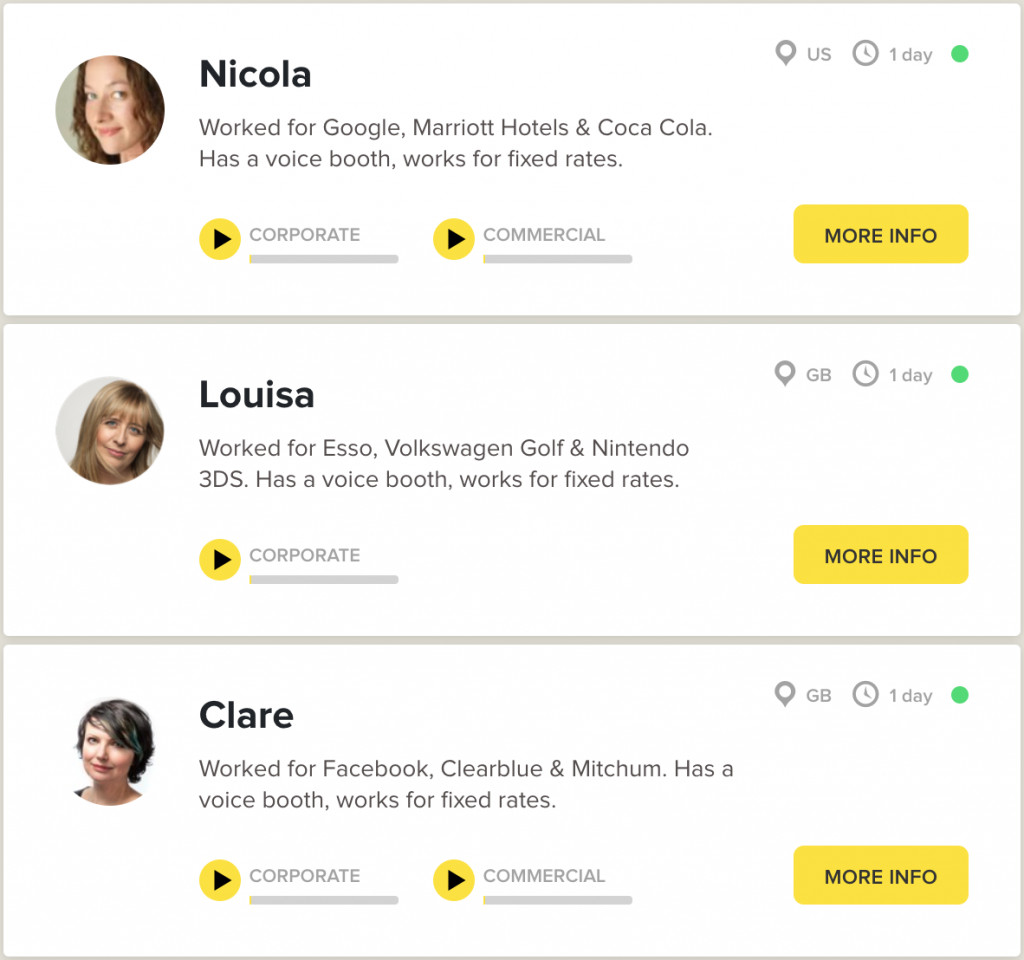 Native speakers
Our native speaking voice overs from all around the world are professionals in their field and guarantee correct pronunciation. The voice overs usually record from their home studios with broadcast quality.
Thousands of creatives and producers have put their trust in us
Booking.com
"Excellent service, quick and easy interface. And we have a fantastic account manager who has helped us fix problems, despite last minute script changes. Strongly recommended."
KRO
"Thanks to the quick delivery we made our deadline with time to spare. Which is actually besides the point, because James' voice is a perfect match: an accent-neutral voice full of conviction and power."
Spotify
"Voicebooking.com is an important tool for Spotify in convincing advertisers of our strength as an advertising platform. We are most happy about the level of creativity in the productions and the speed with which you deliver."

Our services
Maximum of 25 voice overs per language
You will not have to dig through a pile of voices. We select the best and most reliable voice overs for you, including (fixed) fees.
Choose from 7000 voice overs


Are you looking for a truly extraordinary voice? You will find it in our huge database. No need to worry, we will help you look.
Voice over castings within 2 hours


You want to move fast, we get that. That is why you will receive voice over demos in your mailbox a couple of hours after the briefing.
Voice over directing, remote directing
How do you prefer to work? Will you leave directing to us? Will you attend the recording? Are you checking in remotely? Everything is an option!
Voice overs in 95 languages

We have almost a hundred languages in our database. And through our partners we offer every language in the world.
Voice over samples
You want to be sure a voice is the right fit for the job. That is why we send you samples to help you make your choice.
Audio-services
Besides voice overs we also arrange your audio post-production.Mixing, sound design, original compositions; everything on 1 platform.
On screen adjustments
Does your production require the video to be adjusted as well? Then we will take care of that too. For example, adjusting titles and pack shots.
Buy-out handling
Are you using multiple voice overs in different countries? Then buy-out handling can get to be quite the administration. Ask Voicebooking, then you don't have to worry about it anymore.
Extremely quick delivery
We usually deliver voice overs within a few hours. Complete audio productions within 1 or 2 days. Pretty quick, right?
Immediate quotes
You don't want any surprises afterwards. You need clarity up front. Voicebooking gives you that.
Direct contact
Want to get in touch with your voice over to discuss or brief? You can do that. Would you like to leave it in the hands of a dedicated producer? You can do that too. Whatever works best for you.
Free re-takes
Not everything goes right the first time. That is why we offer free retakes. Until you are satisfied.
Project management
If arranging voice overs and audio services is not your core business, feel free to let Voicebooking take care of it. It is what we do.
Everything on 1 efficient platform
Searching, booking, briefing, directing, editing; everything on the same platform. Very easy.
Request a quote!
Be amazed at our competitive rates, without having to compromise on quality.