Male voice over wanted?
With Voicebooking, you can find the right voice actor, quickly, easily and hassle-free.
Our wide selection of top voices are ready to record for you.
From professional voices, to celebrity voices
Looking for a male voice over for the production of, for example, an animation or e-learning course?
Voicebooking has a vast database of voice actors who can record at home or in our own studio.
Wanted and found: male voice over
We have a large selection of male voice overs to offer. Just as large as the demand for male voice overs, or in other words: voice actors. For many brands and productions, it's important to work with a voice that fits. Nice sounds different to tough – tough doesn't always fit with a brand that has a 'nice' image, and vice versa. That much is clear. That's one of the reasons why Voicebooking offers voice castings.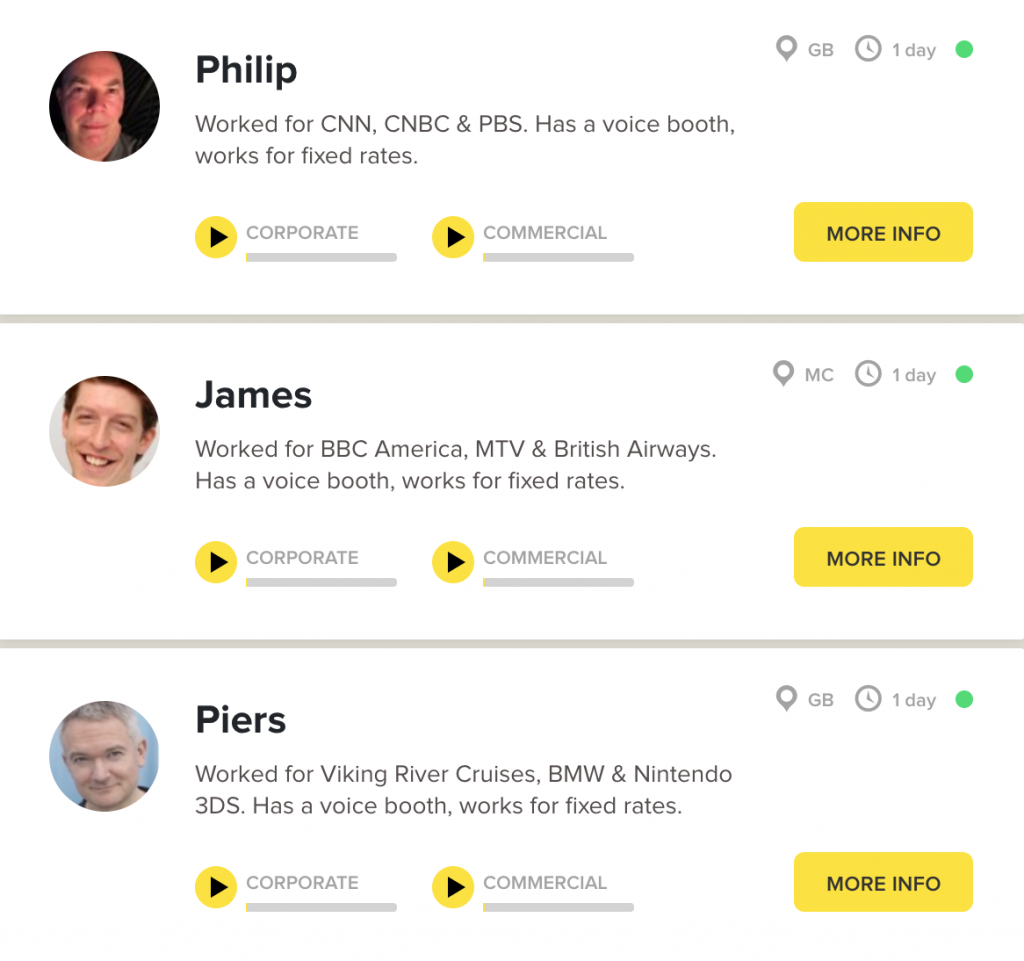 Our male voice overs
Through Voicebooking, you can easily select the right male voice over for your production. In fact, you can choose from the best voice actors in the world. We work with fixed rates and all our voice actors can record from their own home recording studio. This makes it easy to book a male voice over. Additionally, it's possible to listen in during the recording. Alongside our own studio, you can also book our voice actors to record from a studio of your choice.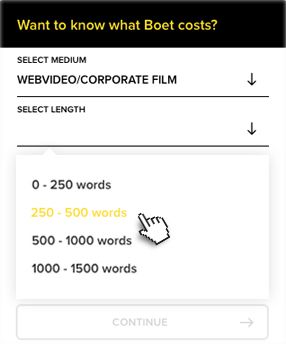 Fixed rates for male voice overs
If you book a voice over through Voicebooking, you are guaranteed professional recordings and fixed rates. It doesn't matter if the voice over is used for an interview, film trailer, documentary, commercial or e-learning course: our voice actors can do it all.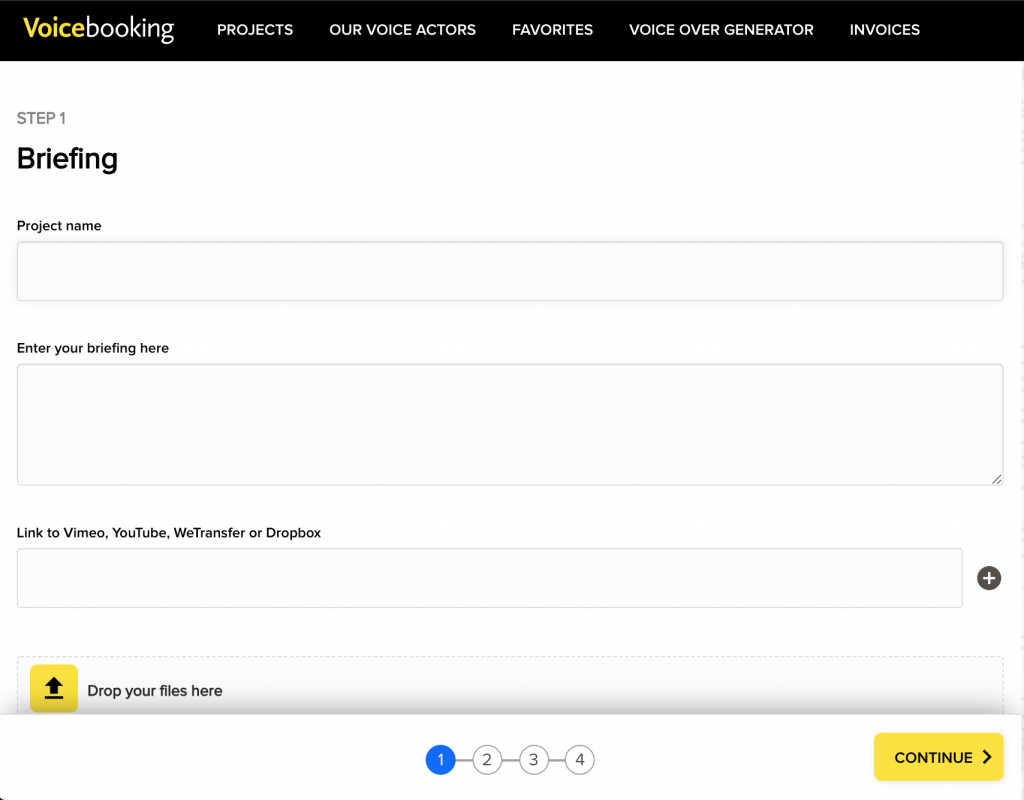 How it works
First, select the type of production you need. Then, on the right-hand side of the menu, you'll see how much it will cost. Here, you can book a voice over, as well as any additional services needed If you need your script translated, for example, you can easily book this too. Want to book audio mixing or audio post processing? Check! Once your order is finalised, you'll immediately see the total cost on your screen. You can also book services such as audio post processing separately, if needed.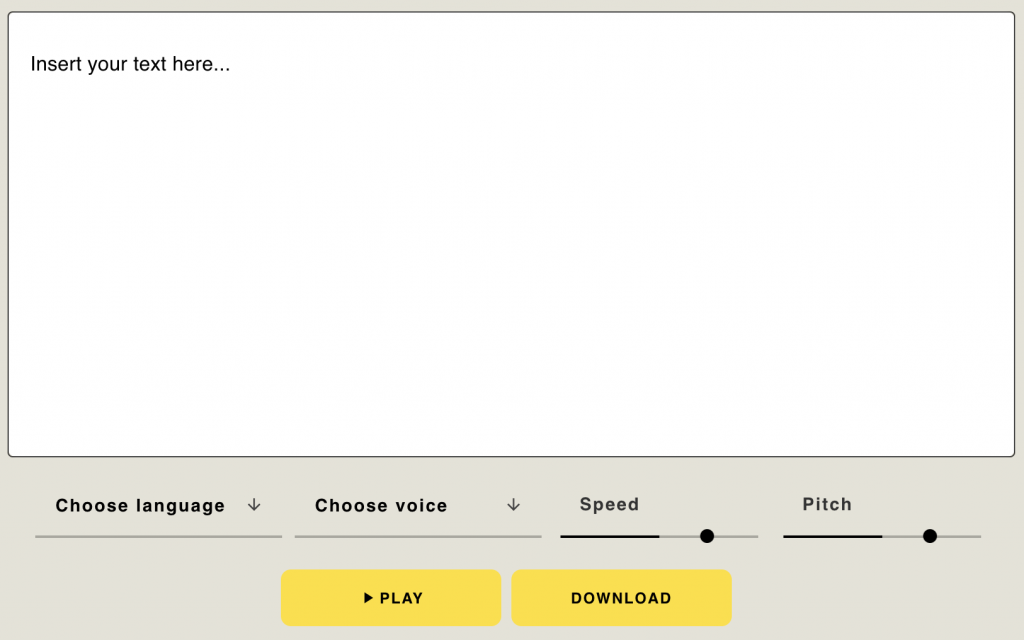 Test your script with the voice over generator
Once you've found the right voice, Voicebooking offers you the possibility to test your voice over script with our free voice over generator. How it works? Copy and paste your text, choose your language and then the voice. And voila: within just a few seconds, you'll have your guide track, which you can use for videos, commercials and other audiovisual productions. Then you can play around with the speed, text and feel, and edit your text where necessary.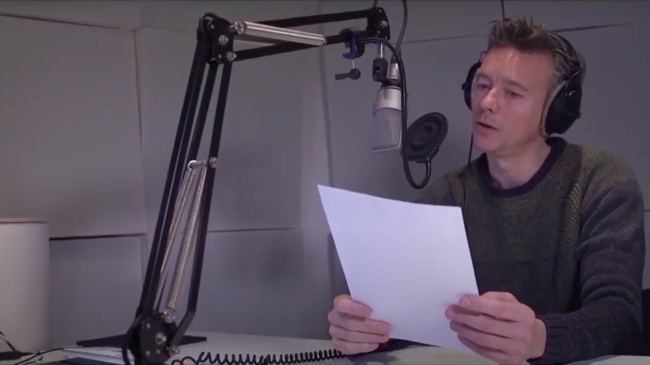 Difficult words
When it comes to difficult words, the generator knows exactly what the right pronunciation is, which means our voice actors will know how to pronounce them, too. This helps the vice actor before they get to work with your script, meaning they just need to check the pronunciation before they start recording. Just another reason why our clients like working with us.
Why producers like working with Voicebooking


1. Speed
Naturally, this is at the heart of our innovative process. When we first started, there was no such thing as a web shop for easily booking and recording voice overs. Nowadays, we can guarantee to offer 'voice overs and sound design at the speed of light', both locally and globally.
2. Convenience
Our website acts as an innovative tool which can be used to effortlessly select the right voice actor and plan and receive your audio recording, with support and advice at the click of a button, if needed. 'It just works well' is the feedback we often receive.
3. Native speakers
Authenticity is of the utmost importance for our clients. Many of our clients work internationally, so it's good to know that Voicebooking works with native speakers wherever possible – by this, we don't just mean voice actors who happen to live in a certain country, but real native speakers who are capable of recording straight from their home country, thanks to their recording facilities.
4. Transparency
In today's digital age, your company can only survive if your process is smart, reliable and transparent. At Voicebooking, you always know what to expect. What you see (or should we say 'hear') is what you get. You have full creative control and can see exactly how our rates are determined. It's always helpful to know the timeline for delivery and costs.
5. Quality
At Voicebooking, just because we deliver quickly and affordably doesn't mean we scrimp on quality. For the last 10 years, our clients tell us that we deliver consistent quality. 'You can trust them to get it right' is what clients say about us. We only select the best voices, so not much can go wrong there.
6. Flexibility
Things can change a lot in between the initial briefing to the execution of a project: anyone who works in audiovisual production knows this. Deadlines are usually set in stone and are seen as critical, meaning you need to be flexible in terms of other aspects that can change according to the available time and budget. Voicebooking can almost always offer practical and professional solutions.
7. Audio experts
Speed, convenience, quality. These are all equally important, but what really makes a difference is the audio experts who work at Voicebooking. They're service-oriented and can make any production run smoothly and quickly. Our employees are always willing to go the extra mile.
8. Audio post processing
It goes without saying that voice actors are our core business, but all other aspects are just as important, such as audio post processing that ensures a voice sounds great on any kind of device imaginable. A music piece, or sound design can give a voice an added kick. Everything is geared towards creating an exceptional end product.
9. Creativity
Because nearly all our clients work in the creative industry, we can influence each other to be sharper and better. Our experience is that, while we've made the production process more efficient, it never affects the originality and creativity of the end product.
Thousands of creatives and producers rely on us
Spotify
"For Spotify, Voicebooking.com is an important tool to convince advertisers of our strength as an advertising medium. We love the creativity that goes into their productions and the speed at which they can deliver."
Booking.com
"Great service, quick and easy interface, and we have a fantastic account manager who helped us resolve issues despite very last minute script change. Highly recommended."
KRO
"Thanks to the fast delivery we met our deadline with ease. Actually the speed is just a side-note, because James' voice was spot on: A neutral, convincing voice full of power."

Start looking for a 'male' voice over now
There are thousands of top globally-based voice actors who are ready to record a voice over for you. Delivered within 1 working day and you can see what they charge immediately. This includes famous voices too. Try it and see for yourself.

Got questions? Contact us.