How to increase your chance of a film festival win
Go for gold!
Cannes, Eurobest, Epica, Webby, D&AD: every year there are numerous film festivals for effective and creative work which you can submit your film to. To help you make your case as powerful as possible to the festival jury, we thought it would be a good idea to grill a number of experts for you. We spoke with independent strategist Gertjan Hafkamp, pitch coach, David Beckett and founder of Casefilm.nl, Geert Ploeger. Are you going for gold with your film festival submission? Well, with this e-book you'll be well prepared. Good luck!
In this e-book you will learn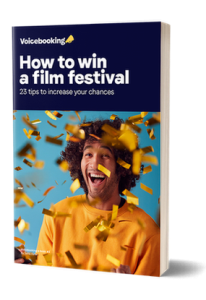 How you can powerfully write and support your film festival submission case.
How you can make a strong case video.
How you can persuade the jury with your personal presentation.
How you can make your case stand out from all the other films.
About the author
Jente Kater is the founder and CEO of Voicebooking.com, the fastest growing voice acting agency in Europe. It maintains a web shop format and provides 24-hour delivery by professional voice talents, who record in their native tongue from locations around the world. Jente loves writing about audio-visual communication, copywriting, media and radio. Prior to Voicebooking.com he was a DJ for various national radio stations in the Netherlands.
Download the e-book here!
Looking for the perfect voice over actor?
Voicebooking has facilitated thousands of voice over projects coming to life in the online world. Whether a corporate, advertisement, e-learning or a podcast project, we can do it all. Take a look at their profiles and contact the voice actor directly through our chat with a voice over feature.