52 tips for writing persuasive voice over scripts
Whether you're creating a radio ad, web video or e-learning course, with a well-written script, you're already well on your way to great results. This ebook offers you a whole host of tips on scriptwriting and storytelling.
In this ebook you'll read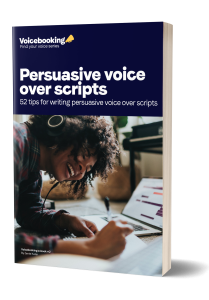 How to grab your target audience's attention
How to write a captivating script
How to apply storytelling techniques
How to get a positive response to your script
About the author
Jente Kater is the founder and CEO of Voicebooking.com, the fastest growing voice acting agency in Europe. It maintains a web shop format and provides 24-hour delivery by professional voice talents, who record in their native tongue from locations around the world. Jente loves writing about audio-visual communication, copywriting, media and radio. Prior to Voicebooking.com he was a DJ for various national radio stations in the Netherlands.
Looking for the perfect voice over actor?
Voicebooking has facilitated thousands of voice over projects coming to life in the online world. Whether a corporate, advertisement, e-learning or a podcast project, we can do it all. Take a look at their profiles and contact the voice actor directly through our chat with a voice over feature.