E-book: 60+ Tips to start a successful podcast
How do you reach your target audience? How do you set up a professional production? How do you develop a recognisable format? Experts will tell you. With the handy checklist, you can be sure you won't overlook anything when starting your podcast.
In this E-book: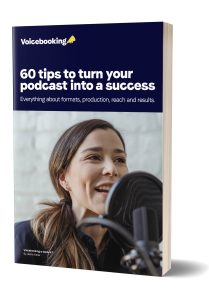 Read all about formats, production, reach and results
Get the best tips for a successful podcast
Get an inside look at 3 successful podcasts: CMO talk, The Business Books podcast, The Branddoctors podcast
Use our practical checklist
About the author
Jente Kater is the founder and CEO of Voicebooking.com, the fastest-growing voice agency in Europe. It has a webshop formula and offers 24-hour delivery by professional voice actors, recording in their native language from locations around the world. Jente enjoys writing about audiovisual communication, copywriting, media and radio. Before joining Voicebooking.com, he was a DJ for several national radio stations in the Netherlands.
Download our E-book here!
Make the perfect Podcast
Find Your Voice Podcasting helps companies set up podcasts. And by working with convenient modules, you decide what you want and where you need our help. From format and presenters, studio time and jingles, to coaching and promotion. Choose the modules you need, see immediately what they cost, and we'll help you create a podcast that brings out the best in you.