Explainer video works wonders for its' show-and-tell characteristic. When audio and images come simultaneously, the brain digest information with greater ease. This means excellent visuals go hand in hand with a strong and compelling script when aiming for a successful explainer video. In fact, the writing is the backbone of an engaging and memorable video. A weak narrative can certainly turn even five-star visuals downhill. How do we avoid that? Follow this step-by-step guide, and make sure your next explainer video stands out!
1. Reseach your audience and identify your goal
Do your homework before turning a blank page into a script. Understanding your audience is the foundation for making your content relevant. Without this, you will only fish in the wrong pond. Awaken your inner detective self and investigate your audience as deeply as possible. 
Ask yourself questions like, who is your target audience? What are their age and gender? What is their profession? What is their pain point? How can you solve their problem? Once you have the answers, you can address the target audience personally. Speak their language, relate to them, and engage with them. Undoubtedly, there will be a higher chance that views convert to actions!
Next, reflect on what you want to achieve with the explainer. Imagine going on a road trip with no destination nor a map (or GPS of course!). Chances are, you will arrive nowhere. Similarly, producing a video without a clear goal won't get you anywhere. Answer these questions to determine where you want to go:
Are you trying to educate your audience about a new product, or are you trying to persuade them to take a specific action? 

Why do you want them to take that action? Why do you want to educate them? What value will your content bring to the viewer? 
Now that you know your goal, you can take the right action to achieve it.
2. Grab attention with a poweful hook
Did you know the average human's attention span is just 8 seconds? It has dropped drastically from 12 seconds in the past two decades. 8 seconds is all you have to grab the viewers' attention. Then make it count! 
You must do so to ensure your video is not skipped immediately and buried in the forgotten cemetery. So what's the key for a hook that stops people and keeps them in their seats? Use the identified target audience and your goal. Relate to your audience, give a glimpse of what the video is all about, and spark their curiosity.
Let's look at our example: "Looking for a voice to bring your project to life? With Voicebooking, this is guaranteed!" Hearing this sentence, the reaction of the right audience can only be, "Yes! How do you guarantee that? I'm listening." The audience feels personally addressed. They know what to expect from the explainer video. Ensure the whole video is worth their time.
3. Present a story
You have people's attention at hand. Now what? Of course, the answer is "keep it interesting". But how? Bring them on a journey. People are naturally drawn to stories. So take the opportunity and make the narrative personally relevant and relatable. With an explainer video, you can put potential customers in the shoes of your product users. 
You can either present a character or simply let the viewers be the main character. It allows them to identify with the role in the video. Ultimately, they are more likely to take action and try your solution.
If you want to present a character, start by describing who they are. Undoubtedly, its' characteristics must fit those of your target audience. For instance, "Danielle is super connected. Social media, email, video chat. It doesn't matter where she is in the world, she can do virtually anything" (Image: Danielle on vacation while doing the mentioned online activities). 
Then, introduce a problem the character faces; "So imagine her shock when one day her bank asks her to come in and sign some documents for a loan she applied for." Now is the time your product/service comes to the rescue! This is an example of DocuSign's explainer video. They then provide a solution of how signing a document can be done virtually, no matter where we are.
Other than this, there are a million different ways to take your viewers on a journey. Show a step-by-step process, or even use a mini-documentary concept. Adjust the story to what suits your brand best, and play with your creativity.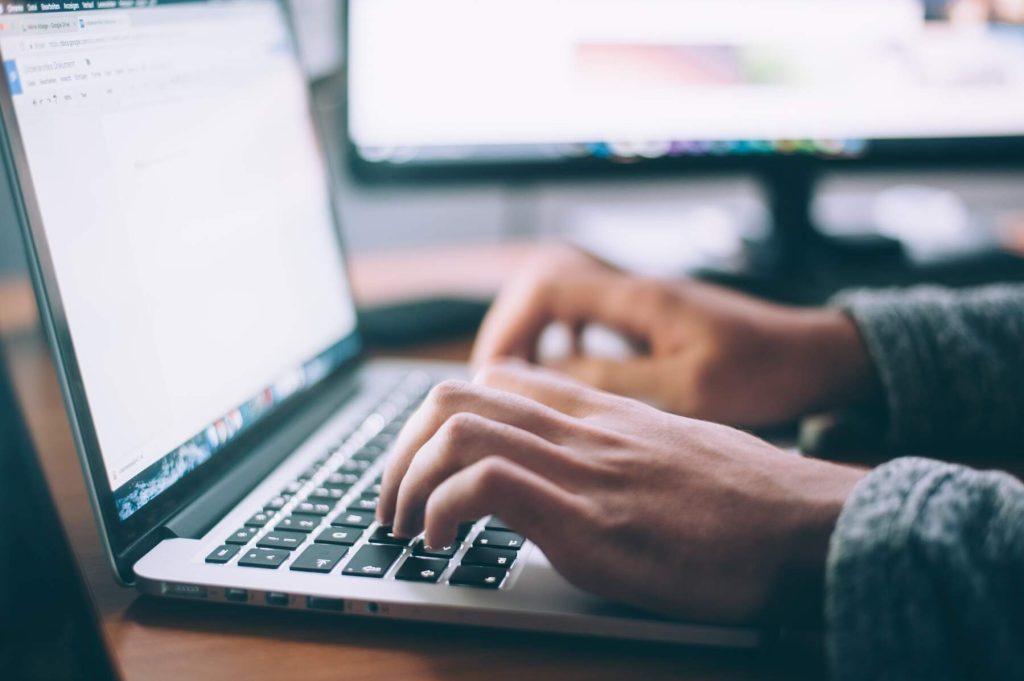 4. Keep it short and simple
There is a subreddit on Reddit (obviously) called "Explain like I'm Five". The idea is to provide people with easy-to-understand explanations. Break down complex concepts in a way that even a five-year-old can grasp. 
Adopt the idea in your explainer video. No matter how highly educated your viewers are, you want to deliver a message concisely. Tell one specific story and get to the point quickly. Just like interacting with children, use short sentences with easy words and keep them interesting. Remember, you are writing for a video, not an article. Difficult words sabotage the narration from rolling out smoothly.
Simple goes together with short. The most effective explainer video goes from 30 seconds to 3 minutes. The longer it is, the more you will bore people and the less impact it will bring.
By keeping it short and simple, you show respect for the viewers' time. Run your timer and read your script aloud. Know that you will read faster than a voice-over talent would. So remember to leave some space to breathe.
5. End with a call to action
An explainer video allows people to discover what you have to offer. Mostly, it aims to raise awareness and generate interest. But you are still far from landing a new customer. By the end of the video, your audience should be more willing to do what it takes to get the cure for their pain. So don't leave them hanging. Name one specific action to do next.
However, you want to pay close attention to your call to action. Don't come out too strong. People don't like being sold to. Remember when you answer a call from a random salesperson? You immediately wish you didn't just answer that. So a call to action like "Buy now!" only scares people away.
Instead, go for something softer, such as "visit our website to learn more." It's also a good idea to make people think they are offered something. For example, "download your free demo now!", or "try out your 1-month free trial!". Once they see how they can benefit from your product, then you make a sale. People are selfish. That's not a surprise. So show them what's in it for them and let them decide.
In conclusion
Now you have what it takes to write a razor-sharp explainer video script. With this, you can be certain your world-class visuals won't stand alone. In fact, the narration is what makes the visual stands out. Alfred Hitchcock once said, "to make a great film you need three things – the script, the script and the script."