I originally come from the radio world and have been working with podcasts for over 10 years now. As a result, I have gathered many insights about what works and what doesn't when creating programs or setting up a podcast. In this blog, I will share 20 tips of mine and of our engineers – on how to set up a podcast. Use them to increase the chances of success for your business podcast. Ready? Here we go!
Tip #1: Offer real value
Only start a podcast if you are convinced you can offer real value to your listeners. Do you have a unique topic? A completely different take on an existing topic? Do you have a special personality? Then you're good to go.
Tip #2: Tell stories
People love stories. It's the primal way to share knowledge and ideas in a way that is engaging and memorable. Listeners are also more likely to recommend your podcast to others. So: what's your story?
Tip #3: Make sure you have a good mic for your podcast setup
In podcasts there is a lot of talking. Therefore, the basis is a good microphone. Or several microphones if you have guests or are doing interviews on the go. 
Tell me, how many times have you stopped listening to a podcast because the sound quality was lousy? Audio is the most important thing of all. Good microphones make all the difference.
Don't want to invest in expensive microphones right away? Then hire the Podcast Case from Voicebooking; a mobile recording set for recording on location. Plug it in and play!
Tip #4: Use your microphone properly.
Professional equipment is one. Now it's a matter of knowing how to handle it. As for the microphone, keep at least a fist length of distance between it and your mouth and use a pop filter.
You know, one of those caps that makes sure that all the pops and other noises you make while speaking are somewhat blocked. You can also polish away unwanted sounds in the editing afterwards, but this tip will make it a little easier for yourself.
Don't edit your podcast too much, it takes the spontaneity out of it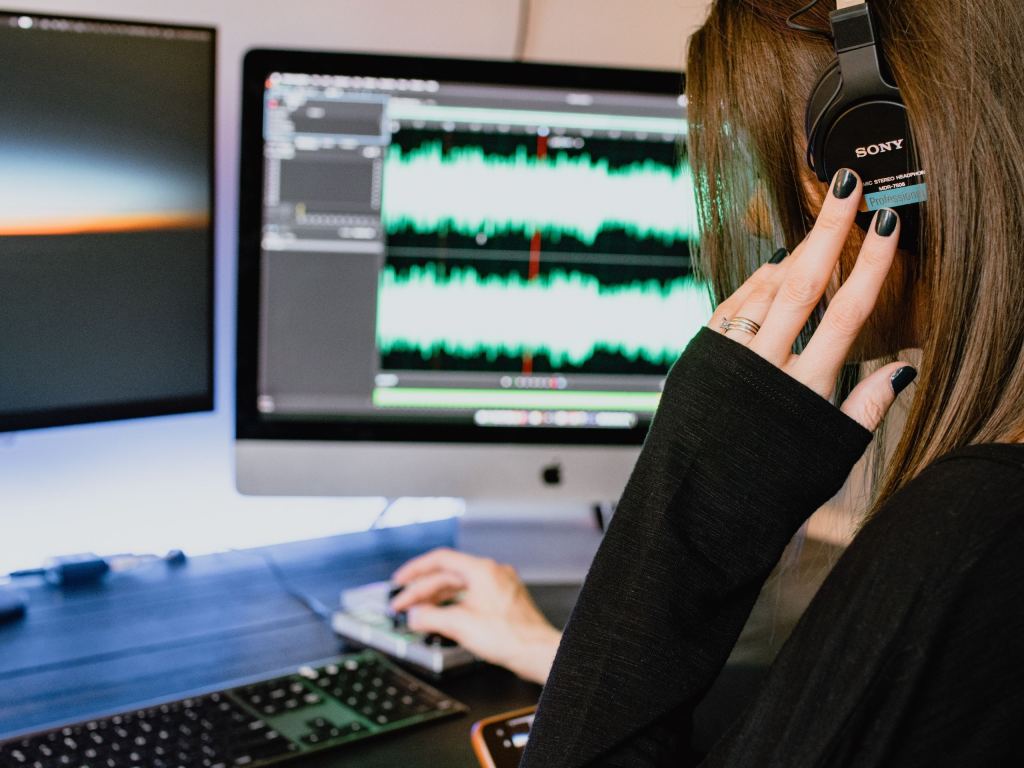 Tip #5: Just start!
The pitfall in setting up a podcast is that you start overthinking endlessly about topics, formats and guests to talk to. You can have all the ideas in the world, but without starting you won't know if it's really good.
The beauty of podcasting is that it's very easy to start. So just do that. Crawl, walk, run. 
Tip #6: Prepare well
Just start, but do think and plan ahead. Especially if you plan to create a series of regularly appearing podcasts. Make sure you have a good workflow. Prepare several episodes at once and also record several at once.
That works nice and efficiently. You will not be stressed when the next episode is due and nothing has been prepared yet. After all, it has to remain fun, right?
Tip #7: Don't edit your podcast too much
Cut out things that are really distracting, like someone entering the room. But feel free to leave in "eh's" or silences. This makes your conversations human and natural.
If you leave it in you also give the listener a chance to think for a moment. Hmm what would I answer?….
Tip #8: Comfort your guest
A podcast is quite exciting for both you and your guests. Therefore, talk to your guest before the recording. Go through the process, so you both know what's coming. But don't rehearse it too much either, because then you will lose the spontaneity.
Tip #9: Don't record via Zoom
If you're interviewing guests remotely, it's best not to do it via Zoom. The audio is too compressed and therefore of lower quality. While you obviously want the best possible sound for your podcast.
Rather use a platform like sqzadcast.fm or Whereby. Or, better yet, ask Voicebooking to help you with the technology.
Tip #10: Pivot your podcast
You may know the term pivoting from the start-up world… Or from friends… It means changing certain elements of your product or service to see if that strengthens your proposition. A new podcast is also, in effect, a kind of start-up. Not everything is going to be perfect from the get go.
So feel free to test out your format, your guests or your frequency.
Tip #11: Put it in perspective.
Especially in the beginning, you won't have hundreds or thousands of listeners right away. After all, building reach takes time. Maybe your topic is so specific that it is only interesting for a select group.
Don't focus too much on reach. Even if you have 50, 100 or 200 listeners per episode. You know what helps? Imagine if those 50, 100 or 200 people got together in a room every week, listening to you? By visualising it like that, you probably won't mind at all that you don't have a big reach (yet).
Tip #12: Famous guests are not a must
Many podcasts feature famous guests. This is fun and increases the impact. But of course it's not a necessity. It's easier for your listeners to relate to ordinary people or fellow professionals. That always works well. Especially in a B-to-B market, you build a better relationship with your followers if you are close to them. So, forget those celebrities, invite relevant B-to-B people.
Tip #13: Always take a microphone with you
You never know what you might encounter along the way. If you are at an event, fair or seminar where you meet interesting people, you can always ask them to talk to you in a quiet corner. That way you'll gather interesting sound bites that you can use in your next podcast. So bring your microphone, you won't regret it.
Don't immediately target thousands of listeners. A niche audience can be very valuable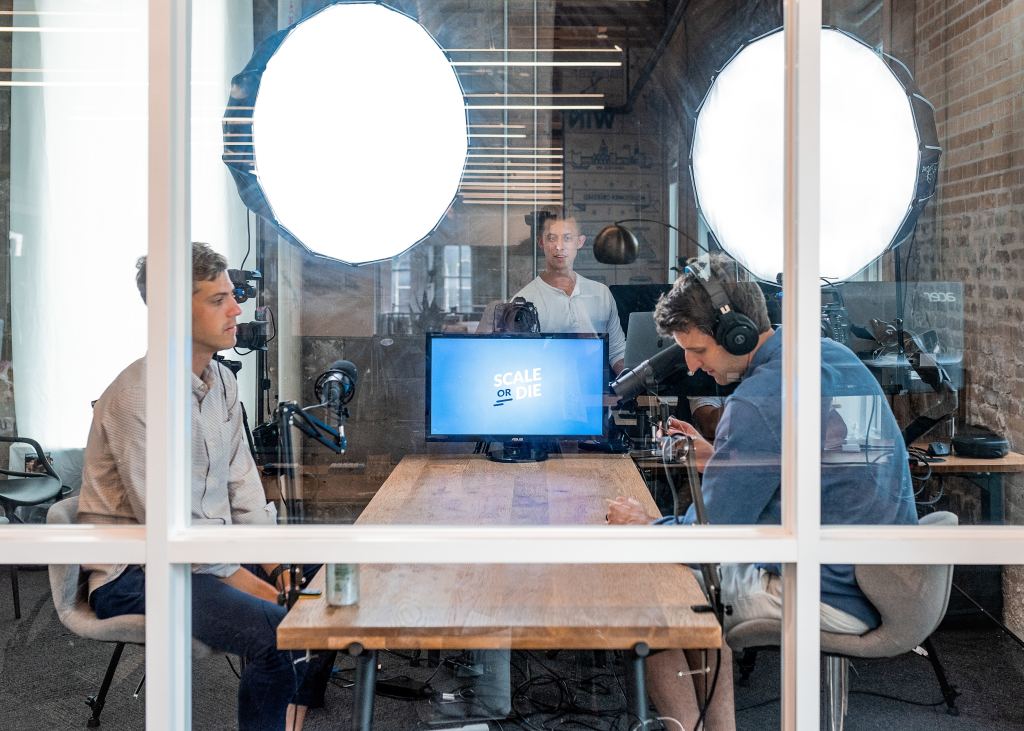 Tip #14: Podcast soloist?
Although most podcasts involve people being interviewed or a number of people talking to each other about certain topics, you can of course do it on your own. It then becomes more of a monologue, a keynote or a spoken column. It's more challenging to make such a podcast worth listening to, but certainly not impossible. Maybe you can be edgy, or even be provocative. Maybe you have so much knowledge about a particular topic that it's engaging enough for a particular audience. Maybe you've written a book and want to summarise it in a number of podcasts. You see, plenty of opportunities to go for: me, myself and I.
Tip #15: Don't write it all out
Nothing is more deadly to a podcast than a presenter who has written out his or her entire text and reads it up. You're not a newsreader. You want the most natural conversation possible with your guests and with your listener. Feel free to prepare a script with topics and headings. But dare to rely on your ability to improvise. The longer you make podcasts, the easier it will be. 
Tip #16: Be yourself
Yes, I know. A huge dead giveaway. Sounds like a tip from your life coach. Yet it's important when creating your podcast. Don't imitate a talk show host. Don't try to be an actor in your own show. You are unique, your story is unique. And so is your group of listeners. When you are completely yourself, you automatically create a unique community around you. That's the power of a good podcast.
Tip #17: A good start…
No matter how good your intentions and ideas are for your podcast series; the first minute of any podcast is the most important. That's when listeners decide whether they want to continue listening. So never just start a story. Get them excited about what you're going to bring to them in the next 15, 30, or 60 minutes.
Tip #18: The rescue of a lousy podcast
In the beginning of your podcasting career you will make some lousy podcasts. That's just how it works. Everything has to be learned. However, there are always a few strong snippets that you can pull out of a bad interview or conversation. Then you combine them with other snippets, comment on the answers and create a new podcast from a number of recordings. You should give it a try. You can always throw it away if you are not happy with it.
Tip #19: Use royalty-free music
Just a practical tip. Do you want to use music in your podcast? Then choose royalty free music. This could be stock music, free or paid. Or a song that you have made especially for your podcast. Just using a well-known song can cost you a lot in royalties and fines. Just saying…
Tip #20: The end of one podcast is the start of the next
At the end of your podcast summarise the content and thank your guests. That makes sense. But don't forget to get your listeners excited about the next episode. By telling them who your guest is, what the topic is or why they shouldn't miss this episode. You'll be surprised how often this simple mechanism is forgotten. But from now on, it won't be forgotten by you anymore.