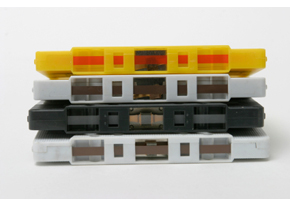 How it works
How do you guys work?
Above all we work fast, very fast. We have fixed price and delivery agreements with hundreds of voiceover actors all over the world. In this way you know within 4 clicks what a job costs and that it will be delivered within one working day. If a voice doesn't have a fixed price then it is clearly displayed on their profile. All our voices work from their own home studio. That said, in many cases you can also book them to visit an external studio (in the Netherlands or abroad).


I'd like to be at the recording. Is that possible?
We have our own on-site recording studio, of course you are free to book any studio of your choice. Please, be aware: the prices stated on the website are based on recordings done in the actor's home studio. The prices for recording on location vary per voiceover. Do you need a voice in another language? Ask for our full range of possibilities such as: recording via ISDN, listening along to the recording at distance or booking a studio on location. We can also book a studio for you with our partners in Belgium, London and New York. Would you like to work with a native speaker that lives in your vicinity? Then we can happily suggest a number of suitable voices.


I'm looking for a very specific kind of voice. Can you help me?
Yes, definitely. Even if you're looking for a voice actor that can do a believable impression of a beat-boxing parrot, or a studenty Londoner who still sounds a little posh or even a Morgan Freeman sound-a-like, our Casting Director will gladly provide suggestions. Any questions? Just get in touch.


The video is finished. Now to find the voice. Can your voice record to time codes?
Yes and no. It does present additional difficulties. When a voiceover is recording at home they will also need the possibility for video playback; so they can sync their recording properly. Also, when trying to match voice to time codes the text often needs to be altered to better fit those timings. In short, it can vary from job to job. Questions? Give us a call!


How can I brief the voiceover?
Simple, it's all very straight forward – online. To begin, click here to log on. In a few quick clicks you can start your project and with the use of our handy audio examples decide what kind of tone of voice you're after. We can take it from there. With scripts of up to ten minutes our voiceovers will record it within one working day.


After I have provided a briefing can I still make alterations to it?
You can always try. 🙂 In principle it works along the lines of delivery for print materials, instructing a carpenter or ordering a wedding cake. If the voiceover has already recorded the text he/she will need to go back in the studio. The additional charges that apply to this vary from voice actor to voice actor. Be assured we will always do our utmost to resolve any issues for you.




Do I need to hire a studio in order to work with your voices?
No. All the voices on our site have been selected because they have the possibility of recording in their own studios (unless their profile specifically says otherwise). There are no charges included for the use of this studio. More importantly by working in this way we can deliver voiceovers incredibly quickly.


I have a dubbing job. Are your voiceovers able to do that?
Yes. However, it is a specialism. Ask our support team which voices are best suited to this kind of work.


I have a mega long text of around a zillion words. Are your voices able to do that?
They can all do it. However, it is a specialism. The longer a script is the more important it is for a voiceover to be capable of recording good 'one takers'. The advantage to this is that voice actors who specialise in long texts are able to offer very competitive pricing. Do you want to know which voice is best for this kind of work? Get in touch!


I have a script but it doesn't really sound like spoken language. What should I do?
You can expect a professional voiceover to speak the text in such a way that it comes out fluidly and sounds good. That said, if you want a text to really come to life, a good script is indispensable. That's why our copywriters often help re-editing text to make sure it turns into a really well written voiceover script. Want to know more? Just give us a call.


I don't know exactly how many words the script is. Can I already book the voice?
Yes, you can. If it's a long script for which pricing still needs to be agreed you can take an option on a voice.




Payments
Payment. How do you manage that?
As a webshop we work with a pre-payment system. Within the EU you can pay by bank transfer (without additional transfer charges) or via Paypal (+3.5% of the cost). For non EU payments you can pay by bank transfer (+ €5 charge) or via Paypal (+3.5% of the cost). In the Netherlands you can also pay directly via iDeal (free).


My payment is being processed by my bank but you have not yet received it. Can I already receive the audio?
If you send us a screenshot of the bank transfer then that is definitely possible.




Delivery
How do you deliver the audio?
As soon as the voice actor has recorded the script you will receive the voiceover as unprocessed audio. You can do all sorts of things with this and your options are not limited by a track that has already been processed. This means: without any added sound effects and with breathing sounds and the like still audible. Of course, you can opt for editing or mixing. During editing we rework the audio so that there is no audible breathing, rustles or similar noises and the voiceover can be added to the video (if necessary). During mixing the sound can be reworked and if necessary music or sound effects added.


Help, I have a really tight deadline! How quickly can you deliver?
Relax. Many of our voices do superfast delivery for emergencies. In that case you will have the voiceover in house within four hours.




Aftercare & Corrections
What about corrections?
Occasionally, a pronunciation or misinterpretation of the required tone of voice does happen. Should this occur, the voiceover will resolve the problem for you within one working day at no additional cost (taken that notification of the correction is received within 20 days). If the correction (and therefore the tone of voice) needs altering after your briefing has been given to the voice actor then we will, unfortunately, not be able to offer the retake free of charge.


Oh, dear…I have a text change. What now?
If a text is rewritten after the recording has taken place then a new session can be planned. The costs for this depend on the length of the text. Amongst voice actors there are differences of opinion about the handling of text corrections that come in when the recording is already complete. Therefore the rate for any additional recording is always arranged with the actor in question. Please keep in mind that if there is a long period between the original recording and a retake the sound may differ from the original. In these cases it is quite common for the text to be recorded from scratch.


%*&! I've lost my files! What now?
We do our best to keep all audio for at least 1 year after it has been completed and sent. It's still quite possible that we will have the audio up to 3 years afterwards.


What if the audio doesn't sound as I expected?
That's simple. If there is anything questionable in the quality of the work then we will do everything possible to resolve this for you. Please note, there are extra costs attached if the script has been rewritten after recording or if you want to change the original briefing.


How can I avoid corrections?
– Read the text out loud. Does it flow?
– Is the text written colloquially? I.e. short sentences, in natural every-day language and sentences that follow logically one after the other. Any questions? We are happy to help you edit your text or rework it into natural spoken language.
– Think carefully about the tone of voice required. See if the text is also written with that kind of voice in mind. Do you have an example (e.g. from YouTube), then send this too.
– Make sure your briefing is both brief and clear.
– Indicate where you would like pauses or particular emphasis (be aware: there can only be one place of emphasis in any one sentence, if the voiceover is going to sound human).
– Do you already have the video? Then send this too.
– Do you have place names, foreign language terminology or abbreviations? Record these on your smartphone's dictaphone and send them over too.
– KISS: Keep it simple, stupid. Use easy words. The best voices give you the feeling that they are talking spontaneously.




Become a voiceover for Voicebooking.com
I am an experienced voiceover and I'd like to register. How does that work?
Professional voices can sign up via this link. After listening to your demo our Casting Director will be able to decide what kind of possibilities there might be for you. Please be aware that Voicebooking.com strives to maintain very high quality. Without a credible track record there isn't much point in signing up.


I heard at my aunt's birthday party that I have a lovely voice. Where can I register?
Sorry, we only work with experienced voice actors.


How to become a voice for Voicebooking.com
Professional voices can audition by signing up via this link. After reviewing your submitted demo's our casting director will determine what possibilities we see. Do note that we maintain a very high standard when it comes to quality. Without a track record auditioning is a waste of your time.


You have fantastic voices on the site. Do you have more?
We sure do! In addition to the 250 voices on the site we have hundreds more behind the scenes. You can give us a specific casting request or organise your own casting via our sister site voice-over.nl.


How do I know that your voices are native speaking if I don't speak the language myself?
That's a good question. For example, an American who has been living abroad for 20 years, is he still a native speaker? If an American listener hears that voice, how will they perceive it? It is for this reason that we work primarily with voices who are living in their country of origin. On the occasions that this is not the case, we have already checked their pronunciations against those of other speakers. Another advantage of working with voices who are residing in their home country is that we can offer you the best possible voices in any given language.


I have another question.
You can contact our serviceteam through support@voicebooking.com or at phone number +31 (0)20 – 77 47 323