Subtitling and dubbing have transformed the way we experience videos in foreign languages. However, choosing between the two can be daunting for a video producer. Should you go for the classic subtitles or jump into the world of dubbing? In this blog, we'll explore the differences between subtitling vs dubbing and help you see which option is best for your multimedia project.
Subtitling vs dubbing
With video content becoming more popular worldwide, the need for subtitles and dubbing has also risen significantly. If you need to become more familiar with these terms, I will map out the difference between subtitles and dubbing for you.
Subtitles are written translations of dialogue or narration. It is usually displayed at the bottom of the screen. They are an effective way to convey meaning accurately while keeping the original audio intact.
On the other hand, dubbing involves replacing the original dialogue with a new voiceover in the target language. Dubbing often requires synchronization with the character's lip movements. It makes the translation less accurate.
Both subtitling and dubbing aim to aid viewers in understanding the content. But which approach is better for your video project? It ultimately depends on your budget, goals, and target audience.
What is subtitling used for? 
Subtitles are popular to enhance the viewing experience in various media, including movies, series, and corporate and online videos. Even YouTubers are now adding subtitles to their content to reach audiences around the world.
The original audio remains untouched with subtitles, fully immersing the audience in the actual dialogue and ambiance. They also help people learn about new languages and make the video accessible for those having trouble hearing or understanding spoken languages. In terms of production, subtitling is much faster and more cost-effective.
However, reading the text throughout the program can disturb the viewing experience. As the viewers rush to finish reading before the text disappears, they may miss important scenes or story details.
A lot of people appreciate original dialogues. But overall preference varies greatly depending on where they live. For example, countries like the US, the UK, and the Netherlands have an increased preference for subtitles.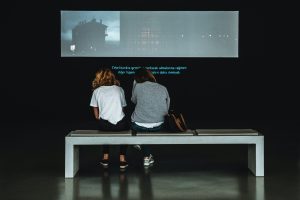 What is dubbing used for?
If you want to captivate an audience that includes children, then dubbing your video project is the most effective option. It is also crucial to consider where your audience lives. In countries like France, Germany, or Spain, it is common to dub videos in their native language. When I traveled to small cities in France, it was difficult to find movie theaters showing films with subtitles. I noticed that many of my French friends prefer watching movies dubbed into their language. 
Dubbing not only creates a seamless experience for non-native speakers but also makes your content accessible to the illiterate and visually impaired. People can enjoy your video without having to stay glued to the text.
By hearing the dialogue in their native language, the audience can easily understand the message you're trying to convey. This allows them to follow the story more effortlessly. Most commercials use dubbing to engage their target audience as much as possible. It is also the perfect method for explanatory videos, such as online courses.
Yet, the process of dubbing audio is more costly and time-consuming. It requires a multidisciplinary team, including audio production experts and voiceover artists, who can bring your project to life. Choosing the right voice actors is crucial; they must be fluent in the target language and be able to express emotions perfectly.
Hire a voice actor today.
Dubbing and Voice Over
At this point, we already have a clear understanding of subtitling and dubbing. However, there needs to be more clarity between dubbing and voiceover. While they sound similar, they are not the same thing.
So, what is the difference between dubbing and voice over? Dubbing is the process of replacing the original dialogue with another language. In contrast, voiceover adds external voices to the video to create a new audio track. Dubbing requires a high level of skill and accuracy but also a special set up of tools. That's why a sound studio is often needed.
In contrast, the voice overs can record from their home studio which makes the production faster and cheaper. Voice over is typically used to narrate a story or explain information with a clear voice and precise pronunciation. At Voicebooking, for example, we provide voice over services to narrate web videos, commercials, e-learning projects, and more. Hiring a professional voice over ensures your project runs smoothly. It also gives a real authentic touch to your videos.
Key takeaways
In the fast-paced world of audio-visual content, localization is key to capturing the attention of your target audience. This is why there is a boom in subtitling, dubbing, and even the voiceover industry. But the ultimate question returns, which approach is right for your project? 
Consider your goals, budget, and the target audience's preference. While subtitling offers a more cost-effective and speedy solution, some viewers find the on-screen text distracting. Dubbing, on the other hand, can create a seamless experience for non-native speakers. Yet, it requires a larger investment of time and resources.
So If you're short on time and budget, for example, subtitling is the best option. But suppose you're committed to collecting a great set of voice actors and investing in producing a completely new script. In that case, dubbing is the way to go.
Regardless of which technique you choose, it's essential to work with a team of experts who can help you deliver accurate voice over translations and excellent voice talents. At Voicebooking, our team of professional translators, voice actors, and production experts will bring your content to life!
Learn more about our voiceover translation services, or get in touch for a voice over and localisation project.