In 1919, in The Hague, the world's first pre-announced radio broadcast took place. In celebration of this the well-known radio makers, Arjan Snijders and Harm Edens are making a radio series: 100 Years of Radio. The mega-project will take place over a whole year, and here at Voicebooking, we are pleased to have developed the audio design for them. What does radio mean to a dyed-in-the-wool radio professional like Arjan? And what's his perspective on the future of the medium? Are we looking forward to another 100 years or will the increasingly popular podcast replace traditional radio altogether?
1. 100 years of radio, that's a heck of a lot. What makes radio so special for you, Arjan?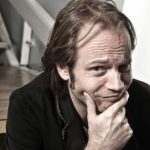 "As a child I listened to the radio with complete astonishment. It was an absolute delight and I felt enormously drawn towards that little box from which so many lovely sounds emanated. Good music, different voices, lots of them; voices which made you wonder who they were and what they looked like, what else they might do… There was one show in particular made by André van Duin and Ferry de Groot, that was a real favourite. It was a playground of sounds, sketches, silliness and chaos that the radio blasted out over us. A show where everything went wrong! Total chaos, I would laugh till I cried listening to that show. That was my inspiration to experiment at home as a kid, using a band recorder and a cassette recorder, I tried out everything I could. Their work is much more influential than you might think. There are so many Dutch shows that never would have come about without those guys´ work."
2. Who do you think is the most important target audience for radio?
"In the ´30s, ´40s and ´50s radio was what T.V. would become later. For everything and everyone. Now it's more nuanced. I think the most important audience now are rush hour commuters; on the way to work you pick up 20 – 40 minutes of a programme and you´re taken along for the ride, informed and entertained. For people at work it's important too, if they're allowed to play music on the workfloor. In the canteen, the supermarket, in the shop, in the taxi. And of course there's also the older listeners at home, who can sometimes have the radio on for hours a day. An audience that naturally will disappear over time… The newer generations who may be at home a lot in their 50s, 60s and 70s, will not remember nor use that pattern as much. And, of course, there are folks who have the radio in their bedroom at home, who wake up with it; who have one in the kitchen; or, in the shed for when they're doing a lil´ DIY. Those are the most important target audiences that we have at the moment. It isn´t as broad anymore, and there are very few young people anymore, that has to be said."
The show opener, that we made here at Voicebooking.com,
for 100 Years of Radio, along with other Jingles.

3. You´ve been a radio maker for a good while now. What have been the best moments in your career?
"There have been loads of great moments. Making awesome radio at Kink FM when I started out was wonderful. Talk Radio on medium wave, talking to people for three hours a day and teasing out all sorts of personal stories was very special. The first time I presented on 3FM, in the middle of the night; we had complete freedom and got to put the playlists together from A-Z ourselves. Doing this work for 25 years and walking around in Hilversum -the centre of the Dutch T.V. and radio universe- and thereabouts, I got to meet a lot of my radio heroes: I got to talk to them for radio programmes and I got to work with them myself. With some, I even became good friends. It feels very special to find that they like your work as much as you do theirs."
4. What do you consider the most memorable moment in the last 100 years of radio?
"Oeh. Well, that favourite programme as a child of course. But what about Radio Oranje? They were making radio during WW2 that people had to listen to in secret. Or, the radio reports about the now legendary Dutch flooding catastrophe of 1953. In 1953 the radio was still the only source of this kind of information. Then, of course, there was the popular radio of the ´40s, and ´50s, when families really gathered around the wireless on a Tuesday evening to tune in.
That there was a time when people put this big apparatus on the table in the living room and, sat round it as a family, that is really super-memorable. It was amazing that in the ´70s, when I was a kid, 80% of the public listened to Felix Meurders do the rundown of the National Hitparade. Like, 80% of the population! Listening to that sort of programming on Hilversum 3."
5. Do you see podcasts as an addition to radio, or a threat to it as a medium?
"All audio, I think, is an addition. What I like about podcasts is that with them we are seeing a renaissance in the kind of radio that we used to have, before formatting and commercial radio knocked it all a bit flat. Programmes began to resemble each other a lot. Most broadcasters have the same playlist nowadays, more or less, they tackle the same kinds of topics and follow the same routine across the course of a day. You have a few targeted programming broadcasters, SLAM Radio is different to Classic FM of course, but the element of surprise has totally gone. And that's a real pity. The beautiful documentaries, radio plays, personal stories, long interviews, those things have to a large extent disappeared. With podcasting, they´re making a comeback. Because you can be yourself, authentic, you don't have to abide by any rules. Just the fact that there is no set length, all the different elements of podcasts, it makes it very accessible for makers, everyone can do it; taken together that means we're seeing the playful, adventurous kinds of radio return. That the demand is still there, points towards the success of the podcast at the moment. Because hundreds of thousands of people are making use of it, find pleasure in it and are absorbing it in a really intensive way. That's an indicator that these kinds of programmes should never have disappeared. So the podcast is a kind of revenge on the overly restrictive format culture of mainstream radio. And it's a beautiful thing that its back, so it is a good addition. That sort of radio I can seeing growing further."
6. How long do you think radio in its current form will continue to exist?
"The manner in which the forms of radio are used, will disappear, such as how FM is used in mainstream radio. Through DAB+ and 5G radio there will be thousands of radio brands to choose from in future. And that is fine, because radio now isn´t the same as radio a generation ago, let alone the radio of two generations ago. Radio evolves with us. The role of radio will continue to change. And with all the other distractions that we've now got, social media, YouTube and Spotify, radio will have to redefine itself again. The smartspeaker now appears to be one of the options. That you get a gadget that tells you what you want and you get just that. That kind of radio is the future. And that will bring new opportunities with it. I find it really inspiring that I will be able to be a part of that. I´m very curious about it and I´ve been using podcasts in that way since 2005. I was surprised actually, that it took 13 or 14 years before podcasting really began to breakthrough in The Netherlands. In the end, that´s what´s headed our way, and we´ll get to experience it for ourselves."
Many thanks, Arjan! If you´re curious about the podcast: 100 Years of Radio, and our audiodesign for it? Then you can have a listen here, on the website of NH Radio or listen to episodes via via Spotify. It's A Dutch language programme, but the audiodesign of course is completely cross-cultural 😉